On the occasion of the International Volunteer Day, we spoke to Saurabh Mishra and Larry Boateng to find out more about the volunteer program, their daily motivation and – who would have thought – finding the love of your life.
Saurabh and Larry are part of the volunteer team in the Local Organizing Committee, which consists of 10 people in total. Together they have the task of looking after up to 20,000 volunteers. As without volunteers, there would be no Special Olympics World Games Berlin 2023.
Have you volunteered before? And if so, how would you describe your experience?
Larry: Yes, I have volunteered in different sports events before. I do it for events that I would actually also want to watch on TV, but being a volunteer is always nicer as you have the firsthand experience on site.
Saurabh: I think for me it all started with the love for sports and that's why I entered my first volunteering experience – just to see myself being a part of a nice sport event. Other times when I volunteered, I've seen it as something which can help me with my personal growth. That's how I started my volunteering experience and so far it's been super nice.
How would you explain volunteering in simple words to a person who has never heard of it before?
Larry: As a volunteer, you support the whole hosting of the Games, you support the Special Olympics movement, you support the athletes, you support the inclusive thought that we want to reach more people. Volunteers join the whole movement Special Olympics and have a really great time.
Saurabh: And what is unique about our volunteer program is that there is a strong connection between volunteers and athletes. Athletes express to us how happy and thankful they are about every volunteer effort. This I think is not a usual experience in other tournaments or super famous global events.
Who can be a volunteer at the Special Olympics World Games Berlin 2023?
Larry: Basically everybody. You have to be at least 16 years old, but besides that, everybody. We have volunteers who have done ten Olympic Games, we have volunteers who didn't even know the word volunteer before they heard about our program. It's super open.
And what are the benefits when you compare it to buying a regular ticket? Why should people become a volunteer instead?
Larry: So first of all, you don't need to buy a ticket if you volunteer because you can access all competitions for free. You can take part in the Opening Ceremony for free, the Closing Ceremony, the Athletes' Party to which volunteers are invited to.
You also have the contact to other volunteers who have the same goals, the same interests. You join a community of people who without the volunteer program you might not know and you are just closer to the Games. As a spectator, you know, once the competition ends, the spectators go home. Volunteers stay in the whole Special Olympic bubble and are still part of the whole thing.
Saurabh: I think it opens multiple windows of opportunity. Maybe someone has a personal aim to understand how a world sporting event is conducted? Someone would want to know how it works to support professional athletes? Someone would want to know how the social media team works? Or how do the delegations from 200 countries arrive in Berlin?
It's very complex. So when you are in as a volunteer, you will get exposure to the organization and you will learn so many things. And with Special Olympics you start to understand topics like accessibility, barrier freedom, inclusion and so on. There is so much to learn which you might not do as a regular spectator. But as a volunteer, you know how much effort it took to run that competition.
Click to play the video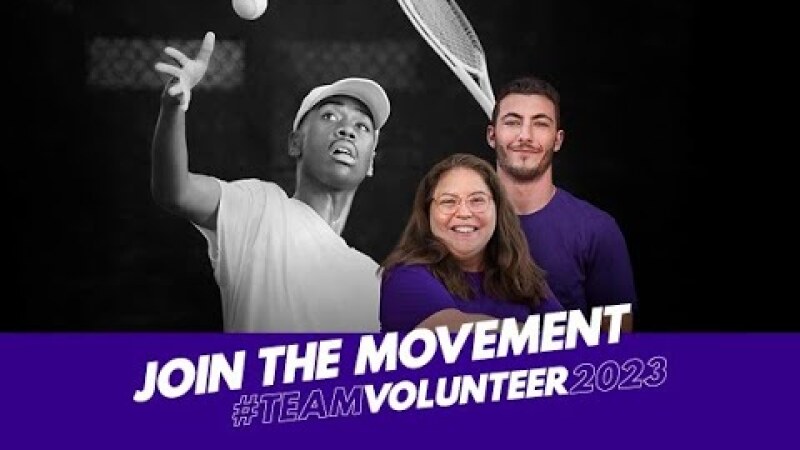 Activate Video
Please confirm that you would like to view our content.
Join the Movement: #TeamVolunteer2023
Let's say you convinced me to apply. You already mentioned a few working areas, but if I'm not sure which area I would like to get involved with, is there a chance I could get some more information or even a consultation?
Larry: On our website, we have our areas listed with a short description each. It's important that every person asks themself: okay, what am I interested in? And then there's always an area which fits. And I would say if people are not sure, then they can also select any work area and give the trust to our team. We will select a fitting area and I can ensure that every area has something special.
Saurabh: And if you need any kind of assistance, the volunteer team is always here. There are several ways to communicate with us: You can write us an email to volunteers@berlin2023.org. You can call our hotline number [+49 (0)30 629 33 60 60] if you want to ask something or have a quick chat before finalizing your application. You can join our Facebook group and ask questions there as there might be other volunteers who relate to you or the same question. And if you are in Berlin, you can come and visit us here in our office, too.
But again, like Larry said, there is a lot of description and information on the website, including a FAQ section that might already help you make a choice.
Now let's say I applied to be a volunteer. What are the milestones, what is the timeline on the way to the World Games?
Saurabh: Once you applied, what you have to wait for is the screening and selection process. So the very first step after application is you would receive an email from us on a successful application and that's where the actual volunteer journey starts.
Volunteers join the whole movement Special Olympics and have a really great time.
Larry Boateng
Trainee Volunteers
Following the selection email, you will receive a role offer, meaning the information on which work area you are assigned to and some more information about the role that we expect you to support us with. You will then be in touch with the respective department of that role offer.
This will be followed by understanding your availability during the games. Can you support us seven days? Are you only available during the mornings? Based on that, we will be assigning all volunteers their shifts. What follows then is the digital training. We prepare you for everything that you need to know for your tasks on site.
Do you have a personal milestone you are looking forward to the most on the road to games time?
Larry: I think for me personally, it's once volunteers start picking up their uniform at the distribution center, because then all the names you see in a list, they become real people. So even after a long day when you distributed like hundreds of uniforms, it's always nice to have small conversations with each volunteer and also to see how many people are actually coming. And it's also interesting to see how different everybody looks and where they all come from to support the same goal. This is what I look forward to the most.
Saurabh: That's the top answer I would say. I mean, based on our experience at the National Games the uniform distribution center was so lively, so welcoming and with such a cheerful atmosphere. To actually see and finally meet everyone, especially after the two years of lockdown, was a super nice feeling. Even if we worked 18 hours. And this is something special, to get a chance to welcome people from all over the world next year is definitely what we all look forward to.
Is there another highlight during the Games which you can't wait to get to?
Saurabh: Yes, that would also be the volunteer kickoff meeting. This is the moment at the World Games when we say, hey, things are getting real, the event is happening and you, all volunteers, are going to be part of it to make it successful.
Larry: And for me it's also the Closing Ceremony, not because everything is over, but more because of all the emotions. They just come out. Everybody is happy and everybody experienced a lot during the Games. The athletes are with the volunteers and the whole staff. We worked together to achieve something great and everybody will be just super happy. So yes, I'm looking forward to it, also because it takes place right at Brandenburger Tor which is something special.
Saurabh: Yes, I would add to the venue Brandenburger Tor that it is also the place for the thank you party. And this is again a nice thing that Special Olympics has: let's call it the athlete-volunteer-thank you-party. Because once again, when you compare us to other major sporting events, there you only see your favorite stars from far away. But here you get an opportunity as a volunteer to actually party with the athletes. It was super fun during the National Games and we can't wait to repeat that.
Okay, so the last question already: Is there anything else you would like to add to the topic of volunteering that we haven't talked about?
Larry: I would say people should not underestimate how many new contacts you get volunteering – from different parts of the world, people with different backgrounds. It can help you in your personal life, it can help you in your work life. You can meet the love of your life. Anything can happen. It's such a big number of people coming together and yes, you never know who you will get in contact with.
Saurabh: And I would say if you're looking for a wonderful summer in Berlin next year, you should definitely see yourself being a part of a very special event that's happening.
The application deadline to become a volunteer at the Special Olympics World Games Berlin 2023 is on 31 January. What are you waiting for?
About
Names: Saurabh Mishra (left) // Larry Boateng (right)
Favourite sport: cricket and rugby // athletics and basketball
Favourite city: Newcastle // Berlin
Favourite animal: elephant // bear
Part of the Special Olympics family since: 2020 // 2021

Thank you Saurabh and Larry!